County Armagh
County Down
County Mayo
County Monaghan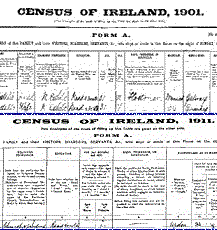 Organised census in Ireland started 1821 and have continued, with a few exceptions, every ten years. Unfortunately the records for the period 1861 to 1891 were pulped on government orders during the First World War. Nothing survives for the Northern Ireland area. Most of the rest were destroyed by fire during the Irish Civil War. A few remnants remain of the 1821 - 1851 censuses, but that of 1901 is the earliest and most complete census of Ireland that survives.
The 1901 Census records for Northern Ireland are available on microfilm in the Public Records Office of Northern Ireland (PRONI). The National Archives of Ireland (NAI)(Bishop Street, Dublin) hold the original census returns for both 1901 and 1911 but the 1911 census is not available in PRONI. NAI also hold the original fragments of the 19th century census returns.
The returns are arranged by townland or, in urban areas, by street. The returns for each townland or street consist of:
Forms (Forms A) filled in by the head of each household, giving the names of all people in that household on census night and their age, occupation, religion and county or country of birth.
Forms (Forms N, B1, B2) filled in by the official taking the census, summarising the returns for that townland or street.
The 1911 returns have details of length of marriage, total children of the marriage born alive and the number surviving.
This page contains transcripts from both the 1901 and 1911 Census returns in respect of family names. In some cases the numerators' summary sheets for particular townlands are available. These not only list all the returns in the townland by name, they also provide information about the nature of the houses and the number of persons in each. For the most part however, the main concern is to record the details of the family members enumerated on census night in 1901 and 1911, where the records are available.
I have grouped the records that I have available in County Order. In some cases there are few records. Where there are townland records available, in County Armagh, I have grouped them with the returns for families in these townlands. Not all of the information available has been collected and I will add to the records as more is obtained.